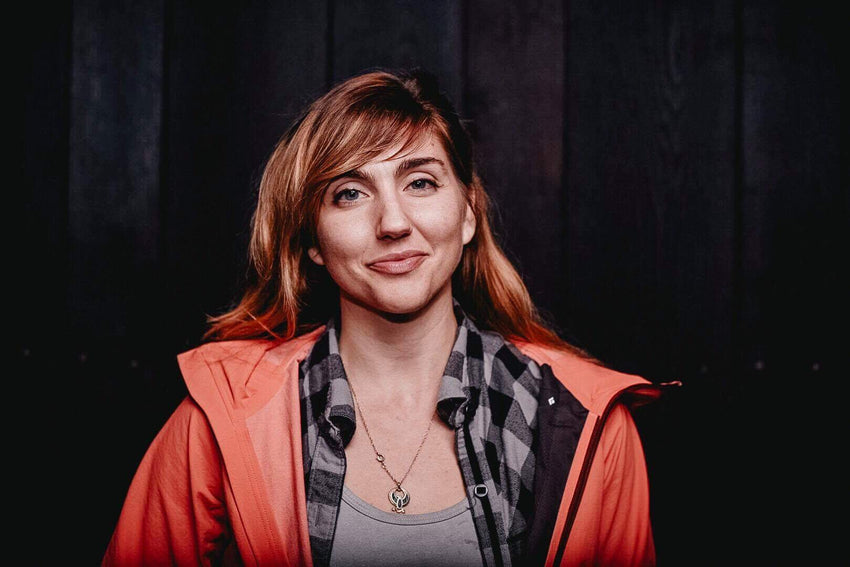 Grab N Go Bag, A Series: Ft. Colette McInerney
KYC asks busy individuals what they always have with them when they're going from point A to point B, B to C, C all the way to D, and D to who knows. Today we're asking pro-climber Colette McInerney what she brings with her.
Colette is a pro-climber, filmmaker, and photographer from Nashville, TN. She has been traveling worldwide and living on the road for the past 10 years. As a professional climber and media guru, she began working with companies like RedBull and National Geographic, doing brand work through film and photography. This led to Colette co-founding the Never Not Collective: a production company whose focus is on the bad-ass women in the pro-climbing community.
For Feeling Balanced Bernardo Gimenez, a photographer, videographer, and pro-climber gave me some great advice. He said, "When you go to shoot you shouldn't climb and when you climb don't bring your camera." Taking his advice and creating boundaries for myself without feeling anxious about not having enough time for this or the other thing has been so beneficial.
Setting timelines for "work time" and "resting time" is a mindset I learned by living in Scandinavia. There, they are very particular about when your work day begins and ends. After a set amount of time the work you do is just not productive, and not good work. In the US, you're valued if you're at your desk and grinding away for hours, but how much of that time is valuable work? Is that good for you? If you set those boundaries to do something healthy for yourself, you may come back more refreshed and more productive.
For Feeling Fresh For a while I was doing a lot of long airplane trips and I became hyper-aware of what I was carrying on the plane. In my carry-on, I always have a change of clothes – or at least underwear and socks - makeup refreshers, deodorant, and an extra pair of contacts.
I also pack one nice outfit or pair of shoes, even if I'm climbing. Climbing lifestyle is one thing and then there is the reality of feeling comfortable and feeling like you can perform in any setting. A lot of that has to do with how you're dressed and how you present yourself.
For Breaking Stigmas I started climbing in NYC so even then I never subscribed to the idea that you had to be super dirty and outdoorsy to be a real climber. When I first visited Camp 4 in Yosemite, I was in the bathroom and shaving my armpits and got the biggest eye roll from these 4 girls. At the time I said I wasn't a real climber yet and not that "hardcore." But, a few years later I traveled to Tokyo, where it would be a big faux pas to be at the gym and get on the subway with chalky, dirty clothes. It's seen as disrespectful and unhealthy. In Europe you'll always see climbers take off their pants and put on a fresh pair to go to the bar. It did change my mentality of what is hardcore. If the most bad-ass climber in Spain changes his pants right before heading to the bar, I don't need to feel bad about anything. Health is important. You should be brushing your teeth and washing your face and there are possible ways to rinse off or take a shower no matter where you are.
For Taking Your Routine On The Go I got a really good tip about skincare when I was travelling with my friend Jeff (who is also a pro-climber). He carries sunscreens and face lotions in old contact lens cases. It's so convenient, and I have a couple of those now for face creams (Editor's Note: Cadence coming Fall 2019 will solve this pain point).
For Work On The Road Public libraries are a great place to do work. I hate working in coffee shops; they are too loud, and it's hard to focus with people moving around all the time. Libraries have private study rooms that anyone can reserve. It's nice to have a quiet space.
For Showers On The Road Rec Centers and Public Pools have showers you can use, but the best ones have been at Flying J's truck stops. From my experience, they were never sketchy, fairly cheap, and really clean.
For Food On The Go When you arrive in a new country, and everything is closed, it's the worst. When I'm travelling internationally or on a layover, I force myself to eat something decent and have food with me because when you arrive and you are jet-lagged and don't know the place and everything is closed, it sucks. If I'm thoughtful, I'll pack hard-boiled eggs, but nuts and fruit work.
For a Dreamy Flight Plane sleep, if you can. A neck pillow changed my life. It's always either around my neck or in my carry-on. For international flights, if I'm ordering wine, two glasses is the max. You go over two, and you're screwed. When you're strung out all day from packing and travel, it does sound like a good idea, but keep in mind that flights are incredibly dehydrating.
For Supplements I used to drink a lot of caffeinated drinks for energy but recently switched to B-12 supplements on the advice of a friend. It works for days when you have pretty low energy. Another good trick is to learn how to power nap effectively. During the 2 PM – 4 PM lull in your day when you feel your eyes closing and you can't get out of your work space for some quick exercise, set an alarm – never over 30 minutes. Close your eyes and just rest. It is the worst feeling once that alarm goes off, and while you do feel groggy after about ten minutes, you'll feel like you just drank ten cups of coffee. It's crazy. When I started doing this, it made all the difference.
Sustainability On The Go When you travel by plane, you sometimes feel like you're doing so much harm to the environment. If you can, take trains frequently or ride-share. Bring your own water, and cut out on disposable plastic use as much as possible. When I was in Mesquite and trying to recycle, I realized very quickly that the whole city doesn't have a recycling system. It's not implemented by the Government in the way it is in other countries. Sustainable initiatives like recycling programs need to be part of our infrastructure.
To check out Colette's Instagram and keep up with her work, click here.
---